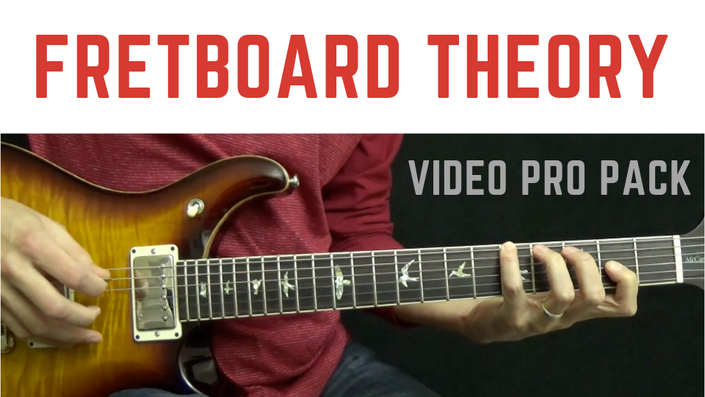 Fretboard Theory Video Pro Pack
The Ultimate Guitar Theory Trainer and Resource Library
Master the Fretboard and Sound Great on Guitar
The only training you'll ever need to understand guitar music so you can play confidently, pick up new songs effortlessly, improvise and create your own music, and simply sound great when you play guitar.
Fretboard Theory is the video course + guitar instructor support that will save you years and hundreds or even thousands of dollars in lessons, if you want to:
Pick up songs and solos you hear on the radio, and play them moments later as if you've been practicing for weeks.
Completely understand how to improvise solos and even write your own songs effortlessly, without wasting time on formal and traditional concepts you'll never use.
Jam with other musicians, without feeling embarrassed that you'll only play the same chords over and over, and avoid playing random off-key notes that make everyone cringe.
Sound great on guitar, and play confidently whether you're in your living room, at church, around a campfire, or out playing a paid gig to a full room.
Hi. I'm Desi Serna. Years ago, I was a basic guitar player like you, nothing fancy. I knew a few songs, and I could learn new songs and solos with a week of practice… as long as the solos weren't too crazy.
Then there I was one Saturday afternoon, in a music store, watching a pro guitarist play. He was playing scales all over the neck of the guitar, and sounding absolutely amazing…
And it wasn't just the scales he played, it was how he effortlessly connected them to chords all over the neck in such an expressive way.
I got goosebumps listening to him.
And I realized I had a lot more to learn!
I bought several music theory books and began studying them… but something was missing.
The books taught a bunch of technical terms and traditional concepts, but they didn't help me understand the music I wanted to play better.
If you've tried guitar videos, books, and in-person lessons before, you might have run into the same problems:
Some music lessons cover other instruments — like piano — instead of being 100% relevant to guitar.
Guitar lessons start affordable, but they can get expensive after a while… and if you're not seeing progress quickly, you lose motivation.
You'll get bored easily if you're not learning songs that are fun! (I wanted to get better at classic rock and popular rock music like Hotel California, Tears in Heaven, Stairway to Heaven, and Johnny B. Goode.)
Some instructors waste 80% of the time on academic music theory concepts that you'll probably never use.
Many instructors will give you a string of interesting but somewhat random lessons that are missing important concepts. Or worse, they're difficult to follow, especially after the first few intro lessons.
You don't want lessons that force you to spend weeks memorizing tabs and finger positions … you want lessons that help you fully understand what you're doing and how guitar music works, so you can simply play and create music in half the time of traditional lessons.
Faced with these frustrations, I set out to learn as many guitar songs as possible, and I examined their parts until I cracked the code on how the music was put together.
I began to pick up on familiar patterns in the music. It became clear which types of chords and scales were used on guitar, and which weren't. I saw how different components of music fit together on the fretboard to make great sounding guitar parts. I realized what type of music theory mattered and what type didn't. I progressed rapidly, then I began teaching…
In my lessons, instead of using traditional method books, I showed my students what goes on in the minds of real players. These students quickly learned how to identify keys, compose chord progressions, and select scales just like the pros… And instantly, they began picking up songs easily and creating their own music! I was on to something.
That's why I created the Fretboard Theory online course:
The Fretboard Theory course helps people like you who want to play confidently and sound great on guitar, and completely understand what the heck is going on in popular guitar music… without wasting time and money on traditional theory that won't help you with modern guitar playing.
I guarantee that this course includes the exact guitar music concepts that will help you go from playing a few songs and memorizing pieces slowly, to being able to compose and play nearly anything by ear… and you'll gain the mastery you need to play confidently for others or just for yourself (and maybe your dog!) at home.
And I'll support you 100% along the way.
Get a lifetime of guitar instruction — everything you need to be a better player, starting today — for less than you'd pay for a few hours of private guitar lessons.
COURSE FEATURES:

Lifetime online access to all 30+ hours of Fretboard Theory video instruction (Volumes 1 and 2)

Backing tracks, neck diagrams, and full tablature to help you master every lesson

Links to free song lessons online so you can put the theory into practice by playing familiar music

Complimentary PDF eBooks you can view online right along side the video instruction

Unlimited email support directly from Desi Serna to help you with any questions along the way

30-Day Satisfaction Guarantee so you can try the course risk free and decide whether it's right for you
JOIN NOW, START IMMEDIATELY
Sign up for the Fretboard Theory course today to get effective training and support so you play better guitar this month than you did last. Evolve your playing and understanding of guitar music into something you'll be proud of, and do it in half the time and a fraction of the price of traditional guitar lessons.
Are you ready to rock?
---
TESTIMONIALS
"Do you want to play guitar on another level or just memorize a few chords and a couple of rhythms? If you want to know why you have never been able to progress further in your abilities and understanding of music, then Desi Serna's material is mandatory. Understand the "why" and "how" music works.
Want to jam with people you haven't practiced with? Then click the "purchase" button already. This material doesn't just teach you to play popular songs, it teaches you guitar theory… and from your newly gained knowledge, YOU can play the popular songs.
Obviously, everyone works at a different pace, but I finished the first 9 lessons in a short period of time. When I reached lesson 10, I was blown away by what I had learned."
-Shad (Fretboard Theory student)
"I have been playing the guitar off and on for a number of years and never seemed to progress beyond a certain point. I have purchased books and videos which taught me how to play particular riffs, scales or chords, but I still ended up not really understanding what I was doing.
As a result, I would start playing for a while and get frustrated by the fact I only had pieces of a puzzle and not a picture. Then I would put the guitar away until the next time I got the urge to really learn how to play.
However, when I decided to buy Fretboard Theory I found a system that actually helped me begin to really understand how things fit together. What I found most useful was how both the practical and the theory were emphasized, and that it was necessary to apply the theory to playing songs to really understand it.
The book references songs where the theory is applied and you can actually see the theory in action. More often than not I would find myself thinking, "Ah, that is what he is doing". I was also impressed enough by the book that I purchased the videos that augment it. I found the combination of the book and the videos work well for me, and I am beginning to move in the direction I want to for the first time."
-MJC (Fretboard Theory student)
"I have been playing guitar somewhat consistently for 25 years. "Fretboard Theory" clarified and illuminated so many concepts for me.
For instance, (before Fretboard Theory) I looked at the CAGED system a number of times, but found it uninteresting, and did not know how to apply it. Now, (after Fretboard Theory) I love the system, understand how it fits with the major scale, its arpeggios, and how to use it.
Playing guitar is my outlet and hobby; when reading and working through Fretboard Theory, I got so excited, and I felt my mind was getting the recreation it needs. There was something about gaining understanding and fitting puzzle pieces together that was absolutely therapeutic. Listening to the songs Desi lists in every section, and hearing the concept applied is more than satisfying. Desi clearly has put incredible thought into how to sequence and explain the material. It is brilliant.
Several times I would have questions as I started a new concept in the book, and then the next paragraph would answer my question. The author is also very accessible. I highly, highly recommend Fretboard Theory. It is crucial for anyone serious about guitar and anyone who wants to be."
-Pep (Fretboard Theory student)
Your Instructor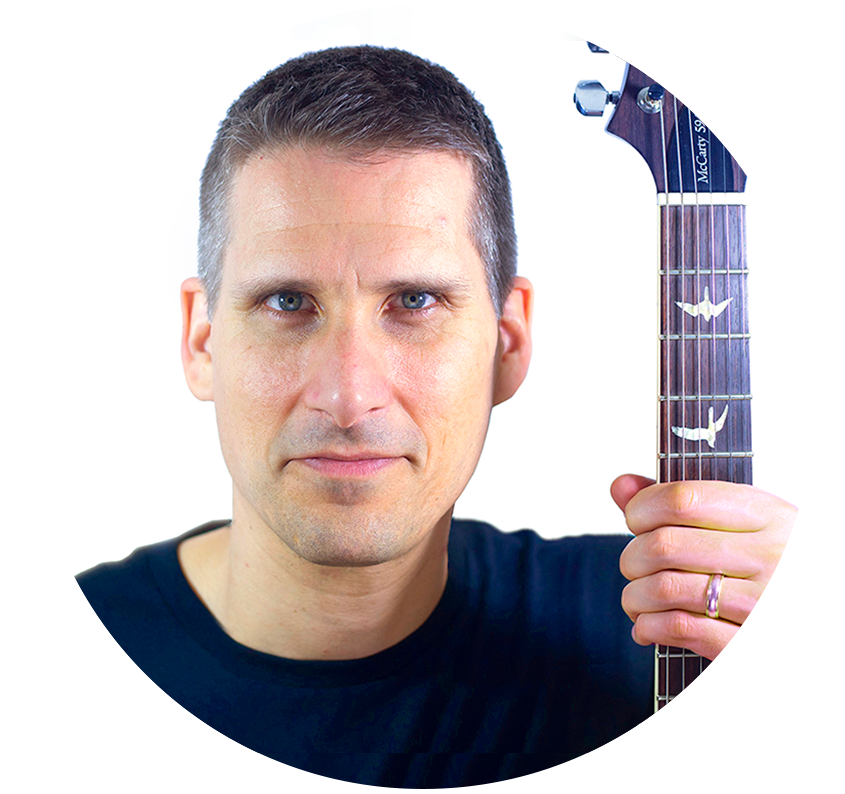 Hailed as a "music-theory expert" by Rolling Stone magazine, Desi Serna is the author of several instructional guitar books and video programs including Fretboard Theory, Guitar Theory For Dummies, Guitar Rhythm and Technique For Dummies, and Guitar Picking Mechanics. He is known for his practical, hands-on approach to music teaching, with a focus on the guitar fretboard and emphasis on popular songs. Desi honed his craft through decades of teaching, performing, and publishing. He lives in the Nashville, Tennessee area, and works full-time managing his business and GuitarMusicTheory.com website.
Frequently Asked Questions
When does the course start and finish?
The course starts now and never ends! It is a completely self-paced online course - you decide when you start and when you finish.
How long do I have access to the course?
How does lifetime access sound? After enrolling, you have unlimited access to this course for as long as you like - across any and all devices you own.
What if I am unhappy with the course?
We would never want you to be unhappy! If you are unsatisfied with your purchase, contact us in the first 30 days and we will give you a full refund.
Will Fretboard Theory help beginners?
The Fretboard Theory Video Pro Pack is meant for guitarists who are well past the beginning stages of learning and have no trouble playing songs using barre chords.
How am I charged for the course?
You make a one-time payment. There is no recurring fee.